Decreased Insomnia in Prison Inmates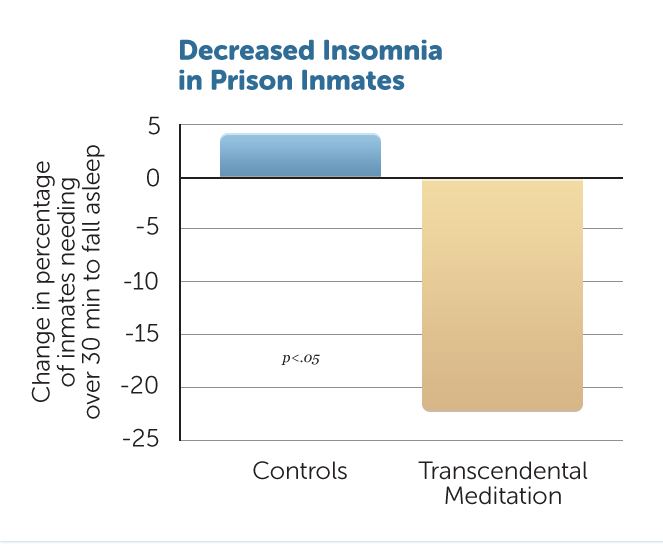 Maximum security prison inmates who learned the Transcendental Meditation Programme showed decreased insomnia and better quality of sleep in comparison to controls.Ref.Criminal Justice and Behavior 5: 3–20, 1978
Insomnia cured among Indian patients
75 Indian patients with health problems for which regular medical treatment offered no cure (33 different problems) were taught the Transcendental meditation technique, and 67 of them continued to regularly practice the technique. In the long term 61 out of 67 patients had good results (significant improvement or complete disappearance of the problem) and 24 had very good results (with a very fast, dramatic or unexpected full recovery).Ref. Scientific Research on TM: Collected Papers vol 3, 239, pp. 1826-1829
For 11 cases of insomnia, all 11 patients showed very good results.
Healthier behaviour among managers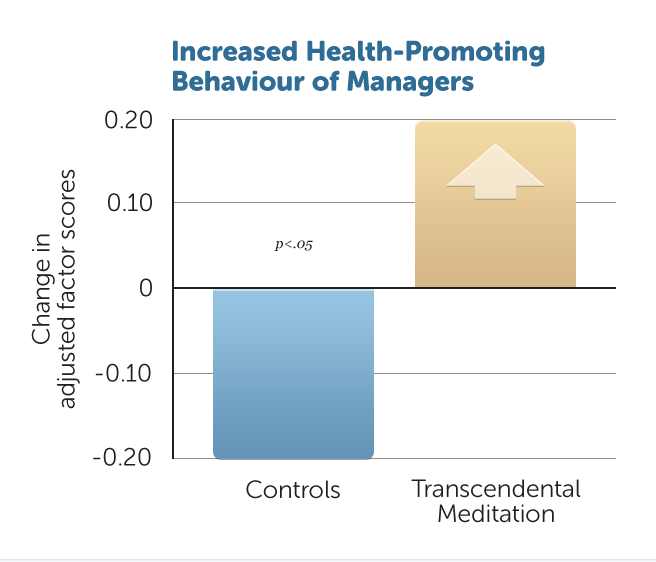 In a company that produces medical equipment, managers that had learned the Transcendental Meditation Programme after three months showed healthier behaviour, as measured by more regular exercise, food and sleeping habits, a reduction in alcohol usage, in comparison to a control group from the same company.Ref.Dissertation Abstracts International 57(6): 4068B, 1996
Improved Night Sleep in Industrial Workers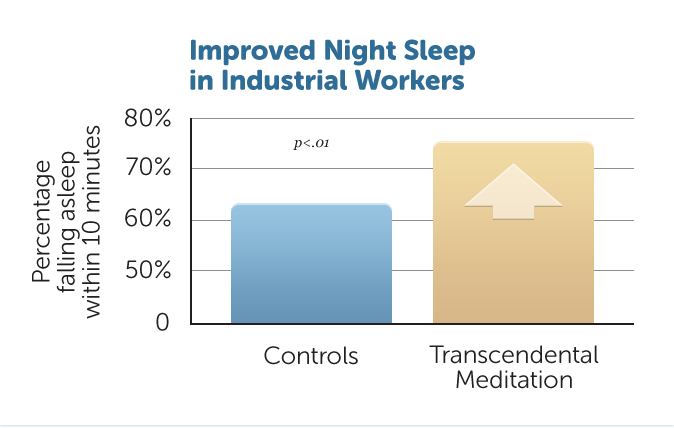 A study carried out at Sumitomo Heavy Industries by the Japanese National Institute of Industrial Health found that the 427 employees that were taught the Transcendental Meditation Programme were able to fall asleep easier at night than those in the control group of 308 employees at the same work place.Ref.Japanese Journal of Public Health 37 (10 Suppl.): 729, 1990
Improved Sleep Quality in Executives and Workers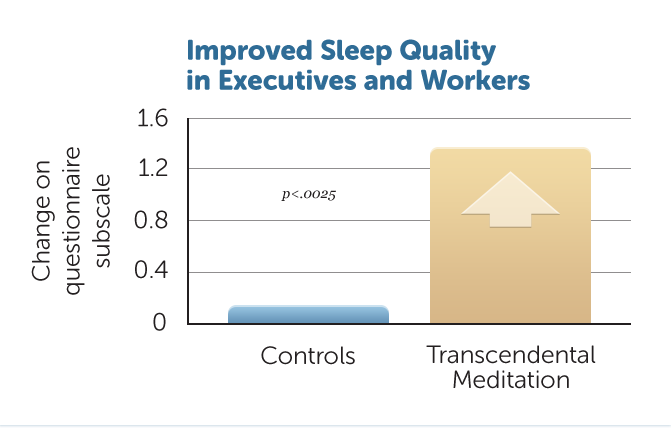 A study among managers and employees in the car industry showed that after three months of regular practice of Maharishi's Transcendental Meditation technique, quality of sleep significantly improved (p<.0025) in comparison to controls of the same work place. The effect was the greatest among regular practitioners.Ref.Anxiety, Stress and Coping: An International Journal  6: 245–262, 1993
Significant decrease of insomnia among PTSS patients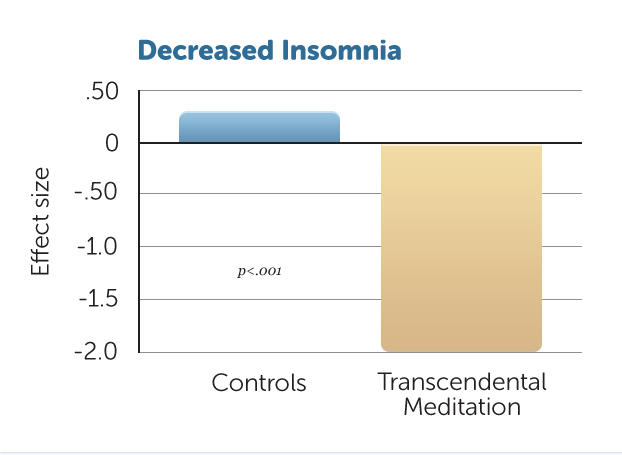 A study of patients seeking treatment for post-traumatic stress problems found that those who learned the Transcendental Meditation Programme showed significant reduction in insomnia after four months, in contrast to those randomly assigned to receive psychotherapy.Ref.Journal of Counseling and Development 64: 212–215, 1985
Reduced depressions and insomnia among TM practitioners in Italy
A study among 107 TM practitioners that had practiced the technique regularly for at least 2 years showed significantly fewer cases of depression (p<.001) and insomnia (p<.05) in comparison to the control group.Ref.Scientific Research on TM, Collected Papers: Vol 3, 239 pp.1830-1845
How can a simple technique do so much?
600 studies confirm the effect of TM with: